Click on the headings for brief details about the services that G2Solutions offers.
For additional information, or to arrange a demonstration, please email us at g2info@g2sinc.com.
Secure Record Receipt

G2Solutions provides a Secure Simple Mail Transport Protocol (SMTP) Server accessible via the Internet for the receiving of NIST records. Security is provided via the Secure Sockets Layer/Transport Layer Security (SSL/TSL) architecture, utilizing 128-bit secure DSA encryption, backed by a VeriSign Certificate of Authenticity. Alternatively, G2Solutions can make the SMTP Server available via Secure Internet Virtual Private Network (VPN) using 128-bit TripleDES encryption, or any proprietary VPN that utilizes IPSEC.
Data Validation

While all Livescan Systems are certified for NIST record creation and editing, G2Solutions offers data integrity checking, and customized validation of field data that may not always be strictly defined in the EFTS. This is particularly important where two or more fields' data is interrelated and requires cross checking to ensure consistency of the values provided. With data errors accounting for a large number of rejected records, G2Solutions is committed to providing every possible means of reducing this number, thereby saving applicants, submitters and agencies bandwidth, time, and money. Records found to contain erroneous data generate an alert which is then sent immediately to the submitter for correction. This email typically will be sent within 30 seconds of a record being received, enabling the submitter to correct and re-submit the record while the Applicant is still present.
Record Forwarding

After being received and validated, record data is examined to determine, based upon customer defined rules, where the transaction is to be routed. For submitters who wish to capture records for a variety of Controlling Agencies, this feature allows them to have records sent to agencies such as the California Department of Justice (DOJ) via the Private Applicant Network (PAN), the California Bureau of Security and Investigative Services (BSIS) via Internet Virtual Private Network (VPN), the Federal Bureau of Investigations (FBI) via the Integrated Automated Fingerprint Identification System (IAFIS), the American Banking Association (ABA), the New York Clearing House, and the National Airline Transportation Association (NATA) just to name a few.
Record data such as Type of Transaction (TOT, 1.04), Originating Agency Identifier (ORI, 1.08), Destination Agency Identifier (DAI, 1.07), Controlling Agency Identifier (CRI, 2.073), and any other tag field contained in the record can serve as criteria for routing rules. Using this approach, it is possible for a Private Patrol Operator in the State of California to send Security Guard Applicant Fingerprint checks to the BSIS via the Internet VPN, and all other applicant fingerprints directly to DOJ via the Private Applicant Network automatically, based upon the California EFTS Type of Application (2.400) tag field set. The following diagram illustrates this work flow: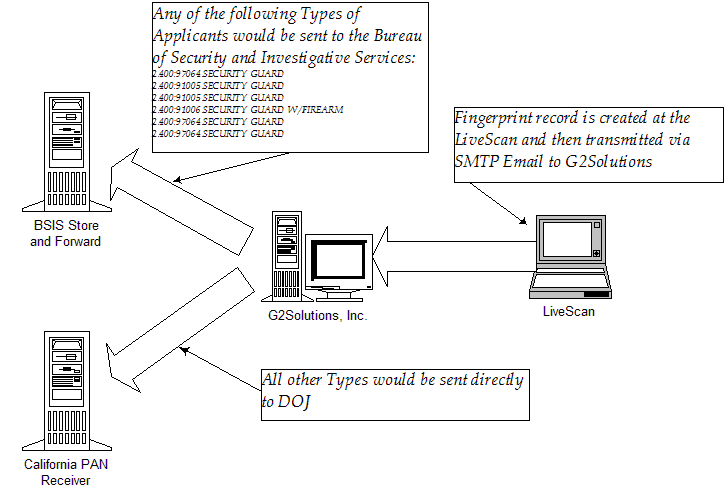 Fig. 1 – Example Work flow for Security Guard vs Non-Security Guard Routing

Web-based Data Collection and Scheduling Service

As an option to the standard transaction routing service, G2Solutions also offers customers and their clients the convenience of online data entry and appointment scheduling. Applicants may, at their option, create an account with G2Solutions that stores all of their employment information. This information is then used when the Applicant needs to schedule an appointment to have fingerprints taken, selecting a date and time, and adding the type of application, and employer information. On the date of the appointment, the record is sent to the LiveScan scheduled for capture, and when the applicant arrives only the fingerprints themselves need to be taken.
This account is free to the applicants who, depending on the type of job and security requirements, may have need of several sets of fingerprints, one for each employer. Submitters pay a nominal fee per transaction in addition to the basic service fee.
By using this architecture, submitters can save time, resources, and eliminate transcription errors. In addition, no matter how many times an applicant applies for various positions, the personal data received will always be the same.
Web-based Management and Financial Reporting

Web based reporting is an optional tool available exclusively to submitters for the purpose of tracking throughput, averages, trends, and cross-checking fees collected. Utilizing an Ad Hoc interface, very creative summary and detail reports may be produced, from total transactions and fees collected for a given quarter, to the average monthly number of Armed Security Guards fingerprinted during the past twelve months. These reports can be viewed online, or saved to Adobe PDF for storage, printing, emailing, and later retrieval. Submitters pay a nominal additional fee per transaction for this optional service.
Transaction Summaries via Email

An included service within the Basic Services, customers can choose to have daily, weekly, monthly, quarterly, and/or annual summary reports emailed to themselves. These transaction summaries are subtotaled by Submission Destination (e.g. – California DOJ and California BSIS), Type of Applicant, and fees collected. The reports also include a grand total for the period covered. All information emailed can be viewed online using the optional Web based reporting tool.
Server Firewall and Anti-Virus Protection

G2Solutions employs multiple servers for receiving, processing, and forwarding transactions. The Web and Email Server is the only direct link to the Internet, and is then internally firewalled and connected to a private Demilitarized Zone (DMZ) Network. Using Linux and IPTables, access through the firewall is strictly controlled by port and IP address. While all transactions received will come from the Internet via Secure SMTP, only those transactions destined for submissions services available via the Internet, such as the California BSIS, will be processed by this server. Transactions destined for the California DOJ PAN, as an example of a Private Submissions Network, will be processed by a dedicated server connected to the DMZ network internally and externally via frame relay leased line to DOJ. By isolating this server, and eliminating any direct link to the Internet, it is possible with IPTables to ensure zero percent packet propagation from the Internet to the DOJ PAN, and vice versa, while at the same time minimizing network latency.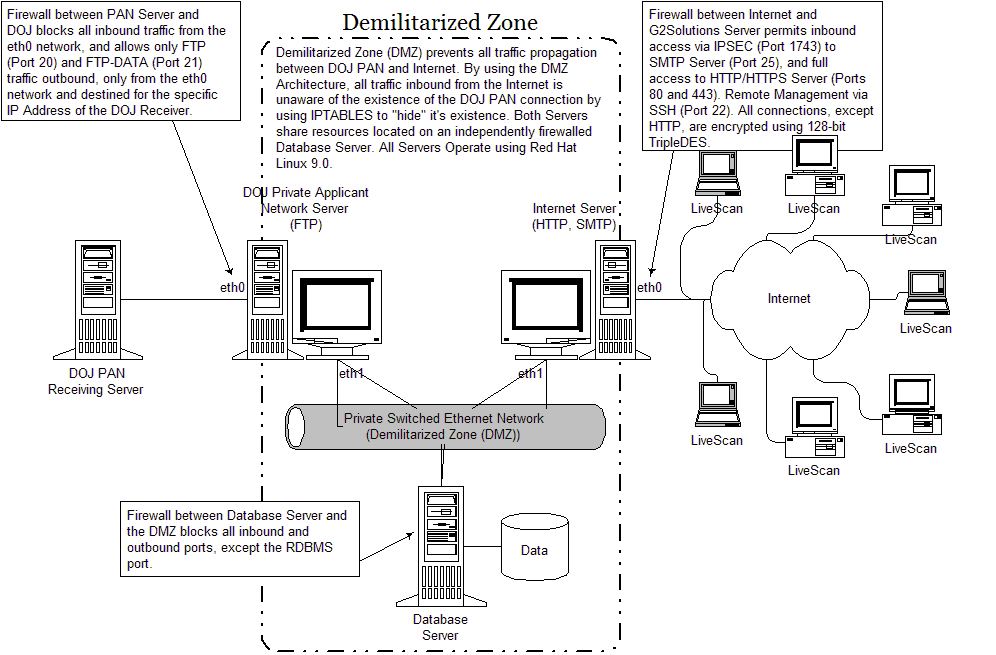 As an added measure, unfortunately necessary in these times, G2Solutions also employees a very sophisticated Automated Lightweight Intrusion Detection System (ALIDS). This system continually monitors activity on all network interfaces for suspicious traffic and generates email, Cellular SMS, and/or pager alerts immediately upon detection of an intrusion attempt. Working in concert with the IPTables firewall, the ALIDS System will automatically block all access from any IP address suspected of launching an attack, gather all available information about the source, and forward this information to several Federal Agencies, including the United States Computer Emergency Response Team (http://www.cert.org) located at Carnegie Mellon University.
Once done, this IP address will remain blocked for 90 days, or until manually removed by one of our Network Administrators. As an added measure of security, if an attack exceeds a predetermined threshold of source IP's, such as in the case of a Distributed Denial of Service (DDoS) attack, the Internet connected Server will isolate itself from the DMZ private network by downing and disabling the internal interface, thus ensuring the integrity of systems, networks, and data to which G2Solutions has access.